StoreTender Online HQ Version 8 ©2015, Aloha Data Systems, Inc.
WIC Packages (Main Menu / Data / Inventory / WIC / Packages)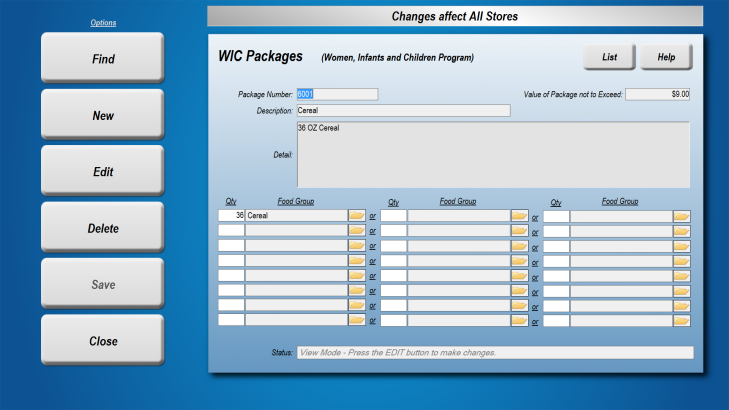 Overview
WIC packages list all items and their respective sizes approved for entitlement. These packages allow the system to automatically validate purchases when a voucher is presented for redemption.
Note: Vouchers vary in appearance from state to state. Check with your state for a current list of voucher packages and their allowable items.
Actions
Find - Selects and displays a package (see Find Dialog)
New - Adds a new package.
Edit - Edits the current food group.
Delete - Permanently deletes the current package.
Save - Saves changes to the current package.
Cancel - Cancels the current operation.
Close - Closes the WIC Packages form.
Keys - Displays the on-screen keyboard (see On-Screen Keyboard).
List - Displays and optionally prints a list of packages (see WIC Package List).
Help - Displays the help menu (see Help Menu).
Tool Tips - Hover the mouse cursor over any field descriptor to display a brief description.
Fields
Package Number - A numeric entry between 1 and 9999. The package number listed on the face of the voucher, This will usually be a four-digit number,
Examples:
·1006
Value of Package not to Exceed - The maximum value the state will reimburse the voucher for. This is an important field as most states will simply deny payment if the submitted amount exceeds this amount.
Examples:
·$39.13
Description - A brief description of the voucher.
Examples:
·Package # 1006
·Single mom, one child 2-5 years of age
Detail - The package contents
Example:
TWO (2) GALLONS MILK (SKIM, 1%, 2% OR WHOLE)
ONE (1) DOZEN GRADE "A" LARGE WHITE EGGS
UP TO THIRTY-SIX (36) OUNCES CEREAL
ONE (1) 64-OZ CONTAINER JUICE
ONE (1) 16 OZ LOAF BREAD OR PKG TORTILLAS OR ONE (1) 14-16 OZ BAG/BOX BROWN RICE
ONE (1) 16 OZ BAG OR FOUR (4) 15-16 OZ CANS BEANS OR ONE (1) 16 TO 18 OZ JAR PEANUT BUTTER
Qty - The size or quantity allowed for the item in this food group.
Food Group - The food group the item is a part of. (see Food Groups)