StoreTender Online HQ Version 8 ©2015, Aloha Data Systems, Inc.
Food Groups (Main Menu / Data / Inventory / WIC / Food Groups)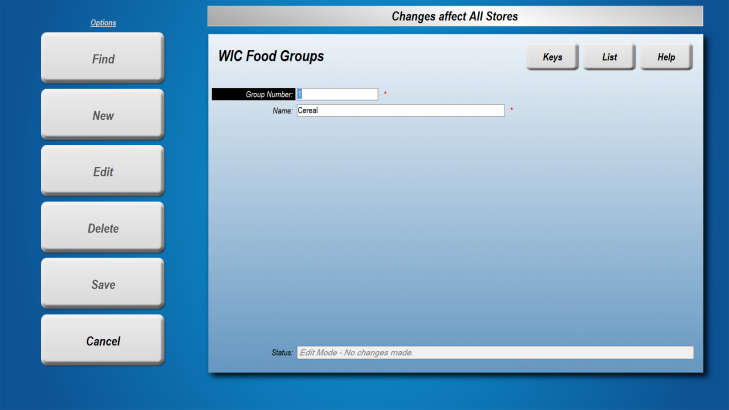 Overview
Food Groups are used to categorize WIC approved products for redemption. Items in one food group should all use the same unit of measure.
Examples of food groups:
·Milk
·Milk Alternatives
·Cereal
·Cheese
·Whole Grains
·Infant Foods
·Infant Cereal and Formula
·Fruits (Fresh, Frozen, Canned)
·Vegetables (Fresh, Frozen, Canned)
·Eggs
·Peanut Butter
·Beans
·Juice
·Fish
Actions
Find - Selects and displays a food group (see Find Dialog)
New - Adds a new food group.
Edit - Edits the current food group.
Delete - Permanently deletes the current food group.
Save - Saves changes to the current food group.
Cancel - Cancels the current operation.
Close - Closes the Food Groups form.
Keys - Displays the on-screen keyboard (see On-Screen Keyboard).
List - Displays and optionally prints a list of food groups (see Food Group List).
Help - Displays the help menu (see Help Menu).
Tool Tips - Hover the mouse cursor over any field descriptor to display a brief description.
Fields
Group Number - A numeric entry between 1 and 99999999.
Example:
3
Name - Entries limited to 40 alphanumeric characters.
Example:
Cheese