StoreTender Online HQ Version 8.0 Copyright ©2014, Aloha Data Systems, Inc.
Accounting (Main Menu / Setup / Stores / Other / Accounting)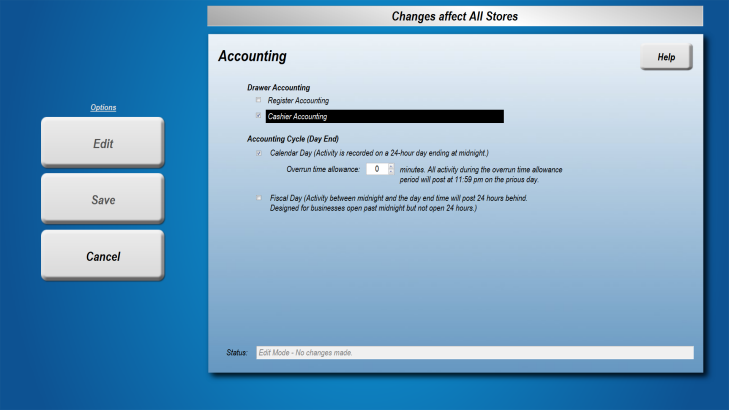 Overview
The Accounting Dialog is where you choose the type of drawer accounting to use as well as the accounting cycle.
Important Note: If you have a scale attached to your point of sale, The Department of Weights and Measures for some states require the point of sale to be able to perform in training mode during on-site inspections by enforcement officers. Employee Training Mode is only available with cashier accounting (See Employees).
Actions
Edit - Edits the current settings.
Save - Saves changes to the current settings.
Cancel - Cancels the current operation.
Close - Closes the Customers form.
Help - Displays the help menu (see Help Menu).
Tool Tips - Hover the mouse cursor over any field descriptor to display a brief description.
Fields
Register Accounting - Register accounting does not distinguish between cashiers and combines all monies and sales by register only. This may be ideal for mom and pop type operations but would hardly be the choice of larger stores where cashier accountability is a must.
Cashier Accounting - Cashier accounting counts and tracks by cashier whether or not they move between registers affording the most accountability between the two methods.
Calendar Day - Calendar day is designed for business that are either not open past midnight or are open 24 hours. Under calendar day accounting all activity is recorded on a 24-hour day ending at midnight. An overrun time allowance allows for activity that occurs after midnight but is to be recorded at 11:59 pm on the previous day.
Overrun Time Allowance - (Visible only when Calendar Day is checked). This is the amount of minutes past midnight that are to be considered as an overrun to the normal day and should be posted at 11:59 PM on the previous day.
If your store closes at midnight or sometimes has activity past midnight enter a value between 0 and 60.
Example with overrun time allowance set to 30 minutes:
Sale performed at 11:55 pm Monday.
Drop performed at 12:01 am Tuesday
Fiscal Day - Allows setting a day end time beyond midnight. Fiscal Day accounting should ONLY be selected under the following conditions:
·Your store is open past midnight
·Your store is not open 24 hours
·You want all activity between midnight and the fiscal day end to post to the previous 24-hour period.
Day End - (Visible only when Fiscal Day is checked).The fiscal day end you want accounting based on.
Supported times are:
·1 am
·2 am
·3 am
·4 am
·5 am
·6 am